---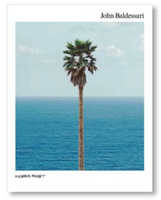 John Baldessari
artbook
John Baldessari

Edited with text by Matilda Olof-Ors. Text by John Baldessari, Ann-Sofi Noring, Gitte Ørskou.


A concise celebration of conceptualist legend John Baldessari's wry approach to image-making

Over the course of his 50-year career, John Baldessari never stopped exploring the seemingly infinite ways that words and images can be manipulated to create new layers of narrative meaning in art. Initially a more traditional painter, in the 1960s Baldessari found himself drawn to a combination of text and photography as the most effective vehicles for his creative intentions. Many of Baldessari's pieces directly address the viewer with hand-painted questions about the nature of art: in What Is Painting (1966-68), Baldessari asks through the canvas, "Do you sense how all the parts of a good picture are involved with each other, not just placed side by side" This piece in particular seems to summarize Baldessari's focus on the recontextualization of familiar images that would define his artistic practice for years to come.

Alongside reproductions of select work, this publication features a wide selection of Baldessari's own writings from 1968 to 2011, providing further insight into the myriad critical ideas already conveyed in the artist's work.
Born in California, John Baldessari (1931-2020) was one of the most influential artists of the conceptual and post-conceptual movements. Baldessari taught at CalArts from 1970 to 1986 and then at UCLA until 2008, with artists such as David Salle and Mike Kelley as some of his earliest students. His commitment to "not making boring art" is evident throughout his entire oeuvre.

Featured image is reproduced from 'John Baldessari.'

PRAISE AND REVIEWS

Wall Street International

 

By combining and colliding the unexpected, the US artist John Baldessari (1931–2020), created conceptual works that raise questions regarding what art is, how art is made, and what art can look like[...] Baldessari has combined subjects from the imagery of popular culture with linguistic examinations, creating works that challenge artistic norms and boundaries.

Moderna Museet

 

For over five decades, John Baldessari (1931–2020) explored the relationship between text and image and what emerges when the two are brought together. His conceptual artworks often have an underlying streak of humour and irony. The exhibition spans Baldessari's entire career and shows the breadth of his artistic practice: you will encounter paintings, photographs, the moving images and the traces of performative acts

AnOther

 

"I'm not being purposely humorous. I do think the world is absurd," said the late American artist John Baldessari, who worked prolifically until his death in January at the age of 88. Baldessari's irreverent approach to the conventions of art saw him become one of the most influential practitioners of the late 20th century, his work placing focus on the narrative potential of imagery. A forthcoming exhibition in Stockholm is the largest survey of the artist in Sweden to date, and will include film, photography, sculpture, prints and painting, exploring the indelible impact Baldessari left on the world of art.

Apollo

 

This is the first Swedish survey of work by John Baldessari, who died earlier this year. It explores how the American artist abandoned painting in the 1960s, instead making use of photographs and text cribbed from popular and academic sources to create provocative and irreverent works.

ITSLIQUID

 

John Baldessari has been of immense importance to Conceptual Art" – says Matilda Olof-Ors, the exhibition's curator. "With an underlying streak of humor and irony, he time and again challenged the prevailing norms and notions of what art is".

CORY REYNOLDS | DATE 8/5/2020

In 2005, the pioneering west coast conceptualist John Baldessari (1931–2020) was invited to write a

 

letter to a young artist.

 

He stated,

 

I started my career as a young artist in 1957. There was no money in art then as there is today. Therefore one did art because one needed to do so. I taught public school five days a week and painted when I could. I got married and participated in having two children which made it more difficult to do art.
I lived in National City, not an art center.
My advice? Don't go into art for fame and fortune. Do it because you cannot

 

not

 

do it. Being an artist is a combination of talent and obsession. Live in New York, LA, Köln, or London.
As for money, if you're talented and obsessed, you'll find a solution.
Today, we're taking inspiration from this letter and Baldessari's lifelong search for new ways of thinking about art. Featured here are stills from his iconic 1971 video piece,

 

I Am Making Art,

 

which parodies body art and the idea that every action, movement, and intention might be seen as an art act. It is reproduced from Walther König's

 

superb new monograph,

 

published to accompany the retrospective currently on view at Moderna Museet in Stockholm.