---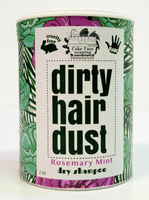 Dirty Hair Dust
Art & Joy Studios
Gorgeous hair in five minutes!
Dark hair, light hair, curly hair, straight hair...finding yourself in that moment when you really need to wash it but don't have the time (...energy) to do so. Dust a little of this all natural powder onto your roots, let it set for a couple minutes, then shake your hair with your fingertips and voila! Good to go! Product Launch Feb 1st! For all y'all that wanted something with a beautiful scent, behold, Rosemary Mint Dirty Hair Dust  treat your scalp to a tingly treat and watch the extra oils on your hairs vanish with every use. Looking for the original Rose Water Dirty Hair Dust? Click here. Shout out to us with your favorite product @cakefacesoaping
***This product has a fun backstory.

Our baby powder had been gaining lots of popularity in stores and online, which we were super excited about! Funny thing was...many of those customers were actually using it as a dry shampoo. So this product is 100% inspired by our lovely, creative customers! It was even mentioned in an episode of Raw Talk by Sheena Mannina!! The recipe is the same as the baby powder just a new label. We hope you love it! In the future we are thinking of adding a second essential oil blend.***
Ingredients: cornstarch, tapioca starch, kaolin clay, alkanet root, chamomile flowers, lemon balm, turmeric, activated charcoal, and rosemary and peppermint essential oils. 
Made in United States